"Frese Covers the District Energy"
"Frese Covers the District Energy" is a concept of products and services that connect parts of your district heating system, allowing you to reduce pump capacity and lower the supply temperature. In this way, it is designed to optimise operations and reduce both consumption and expenditure.
Optimizing your district heating system is more relevant than ever, given the conversion wave, which is a major task. This task requires increased heating capacity and solutions to problems such as cooling and over and underflow in the system. Working with us as your partner, you will benefit from intelligent ways to solve these challenges and a holistic overview of your system.
Optimisation with dynamic valves
Valves are a critical part of every district heating system, and we can help and advise on valves throughout the distribution network. For example, you can optimise flow with fully welded steel ball valves and pressure independent control valves, such as the OPTIMA Compact, which provide optimal control, lower flow, and lower pump pressure.
You can also resolve any problems with large consumers using dynamic flow limiters. They can limit the amount of district heating sent to large consumers, ensuring a smooth distribution to all consumers in an area.
Wells and covers – above or below ground
Wells and covers are also an important part of the district heating network, and we help you find the best and most efficient solutions based on your area and consumer composition. You can, for example, get a complete solution including a valve well, cover, free-standing cabinet and IoT metering equipment, and it can be placed virtually anywhere – above ground in green areas or buried in roadways as an insulated well.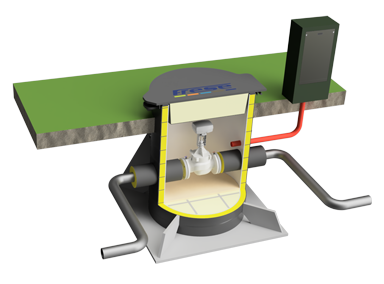 Easy and fast installation with district heating cabinets
District heating cabinets are another component that we help with. Our cabinets offer the advantage of always allowing technicians easy access to the installations, and the consumer avoids having to break through plinth and floor.
There are free-standing, built-in and wall-mounted models, and we have just launched a brand new district heating cabinet that provides installers with even better working conditions, while making installation and inspection easier and faster.
Monitoring and operational optimisation with IoT
With our IoT solutions, you can optimise operations and monitor your pipeline network in real-time. Among other advantages, you can monitor and control the bypass valves and obtain full insight into temperature and differential pressure. This allows you to reduce consumption while maintaining a stable heat supply. It is also an opportunity to reduce CO2 emissions and make a green difference.
With the right solutions and a holistic overview of your system, you can achieve significant benefits with relatively few measures. Because, through better utilisation of water, you can cover more consumers with the same capacity, reducing the need for additional boilers or investments in alternative energy sources. It therefore makes good financial and sustainable sense to investigate how the district heating system can be improved so that we resolve the conversion task in an intelligent and efficient way.