Circulation of Minimum Flow - Plant Room
with PICVs and flow limiters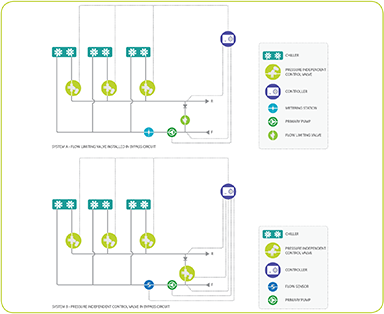 Function
The dynamic flow limiter (Automatic Balancing Valve) ensures a minimum flow for the cooling or heating devices to prevent from freezing or overheating.
The selected flow rate for the flow limiter is based on the minimum required flow rate for the heating/cooling device.
Benefits
The dynamic flow limiter ensures that only the required flow passes through the bypass and it is not influenced by an increasing pump pressure across the valve.
The dynamic flow limiter can either be a fixed cartridge solution or a PICV where the minimum flow can be regulated by the controller.
With a PICV controlling the bypass flow, the bypass can be closed when the flow to the system exceeds the minimum required flow. The controller must be connected to a flowmeter to control the bypass PICV.
Considerations
A metering station can be placed on the main line if additional flow verification is required by the witnessing authority.
The minimum bypass flow shall be added to the design flow if a PICV with a flow controlled bypass solution is not chosen.