Dynamic Radiator System
2-pipe DP below 70 kPa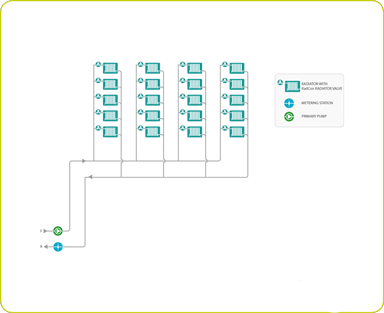 Function
The room temperature is controlled by the radiator valve on each radiator. The balance of the system is handled by the flow setting of the dynamic radiator valves.
The flow at the individual risers is automatically limited and balanced by the dynamic radiator valves regardless of outside pressure fluctuations.
Benefits
Direct flow setting on each radiator.
Ensures full balance and flow limitation in the system.
Provides optimal modulation for the radiator valves.
With the correct dynamic radiator valve flow-setting, the flow will be controlled in every part of the system.
Low-cost solution.
Considerations
The DP available at the dynamic radiator valves must be above 15 kPa.