Circulation of Minimum Flow - System End
with PICVs and flow limiters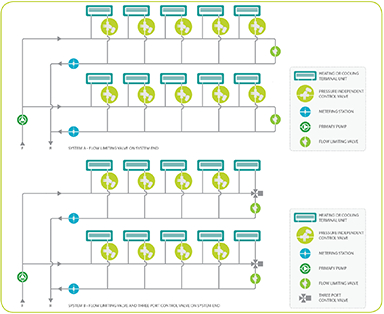 Function
The dynamic flow limiter (Automatic Balancing Valve) ensures a minimum flow for the cooling or heating devises to prevent from freezing or overheating.
The total flow rate for the flow limiters is based on the minimum required flow rate for the heating/cooling device.
The control of the minimum bypass flow can be made with either a PICV system where a dynamic flow limiter is placed at the end of the branch, or in a system where the PICV at the end of the branch is replaced with a 3-way valve with dynamic flow limiter on the outlet port.
Benefits
The dynamic flow limiter ensures that only the required flow passes through the bypass and it is not influenced by an increasing pump pressure across the valve.
With the bypass placed at the end of the line, instant cooling or heating is ensured at all times, and the circulation of chemicals throughout the whole system is undertaken.
Considerations
A metering station can be placed on the main line if additional flow verification is required by the witness authority.
With the PICV system, the minimum bypass flow shall be added to the design flow.
With the 3-way valve replacing the PICV at the end of the branch, pressure independent modulation is not possible.