Frese app
Quick calc on Your Mobile
Download the Frese app for iOS, Android or Windows devices. Follow the link below or scan the QR code on the left with your smartphone or tablet.
New updates in the Frese app
The Frese app has been updated with the latest products and pressure ratings.
The following products have been updated in the app:
Frese OPTIMA Compact DN10-DN50
Frese OPTIMA Compact DN50-DN300
Frese SIGMA Compact DN15-DN50
Frese SIGMA Compact DN50-DN300
Frese PV Compact DN15-DN50
Frese PV-SIGMA Compact
It is now also possible to find the correct pre-setting for withdrawn products in the app.
About the Frese app
We are making it even easier for you to find the correct pre-setting for your dynamic balancing valves - use the Frese APP.
Simply select the type of valve, enter the flow you require and the APP immediately calculates your valve pre-setting or your choice of flow cartridge, and your pump pressure.
Available in Danish, English, German, Russian, French, Turkish and Chinese.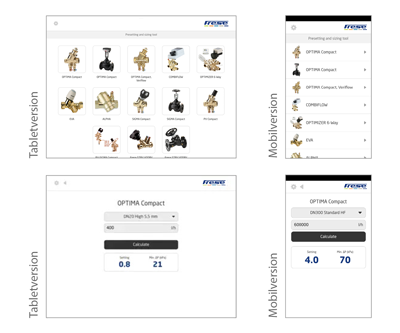 Products included in the APP
Frese SIGMA Compact
Frese OPTIMA Compact
Frese PV Compact
Frese PV-SIGMA Compact
Frese PVS
Frese ALPHA
Frese EVA
Frese OPTIMIZER
Frese S
Frese PV
Frese OPTIMA
Frese PVS